Hall
Symphony Hall
- The 'Spiral Auditorium' promises you the amazing acoustical experiences -
Welcome to MUZA Kawasaki Symphony Hall!
The hall consists of 1,997 seats which surround the stage in a spiral form, typically known as the vineyard-style. The structure enriches the quality of music while creating a sense of togetherness between the audience and the musicians. With a focus on classical music, it presents a diverse range of music. MUZA Kawasaki Symphony Hall is one of the most acoustically sophisticated halls receiving high acclaim from many great artists around the world and it continues to evolve, just like a musical instrument, in its quest to achieve the finest sound resonances.

Seating Plan Inquiry for Rental
| | |
| --- | --- |
| Style | Vineyard-style seats around an open stage |
| Capacity | 1,997 seats (incl. 10 for wheelchair users) |
| Dimensions | 22m wide x 14m deep, ceiling height 22m (approx.) |
| Maximum Visual Distance | 37m (approx.) |
| Stage | Risers for orchestral performances (25), battens for decoration & lighting, noise absorption curtain, lift-type large sound-reflecting board, lighting & electric acoustical equipment |
| Dressing Rooms | 12 rooms (7 individual, 5 multi-use) with sizes ranging from 13.2㎡ to 97.2㎡ |
| Other Facilities | Lobby, foyer, cloakroom, children's room, refreshment corner, acoustical & lighting control room, gift shop, etc. |
| Acoustic Design | Nagata Acoustics |
Facilities
Lobby: Entrance Lobby

Lobby: Spacious bar area with cafe tables

Lobby: Many art works such as "Sky Walk" (Bar, 2F) by Taro Okamoto, Mucha's replica posters (Bar, 2F), and some sculptures (2F-4F) produced by Japanese artists.

Lobby: The hallways of (2F-4F) are decorated with the autographs of those performers appeared on the MUZA stage.

Lobby: Salzburg Section (3F) is dedicated to Salzburg, Austria, the city of music. It is Kawasaki city's sister city.

Kanki no Hiroba an open space (4F of MUZA bldg.) stretches before an elegant glass wall.

DELEIKA's street organ welcomes audience at door-open.

Backstage: 12 backstage dressing rooms (with 7 private rooms) .Some with piano shower room.

Backstage: Spacious Orchestra Foyer with a sofa and café table. Comfortable and relaxing space for the musicians.
Organ
Pipe Organ
The pipe organ, which has a grand modern design, contains 5,248 pipes and it is undeniably the pride of the hall. Built by the renowned organ builder Orgelbau Kuhn AG in Switzerland, the timbre is as varied as that of an orchestra, filling the hall with a rich and majestic resonance.
The pipe organ boasts a substantial range from baroque to contemporary music. Out of its 71 stops (timbre), it can produce authentic Japanese instrument sounds, such as the 'sho' and 'shakuhachi'.
Number of pipes
5,248
Number of stops
71
Console
Four manuals(C-c4), pedals(C-g1)
Organ builder
Orgelbau Kuhn AG
Voicing
Raymond Petzold
Munetaka Yokota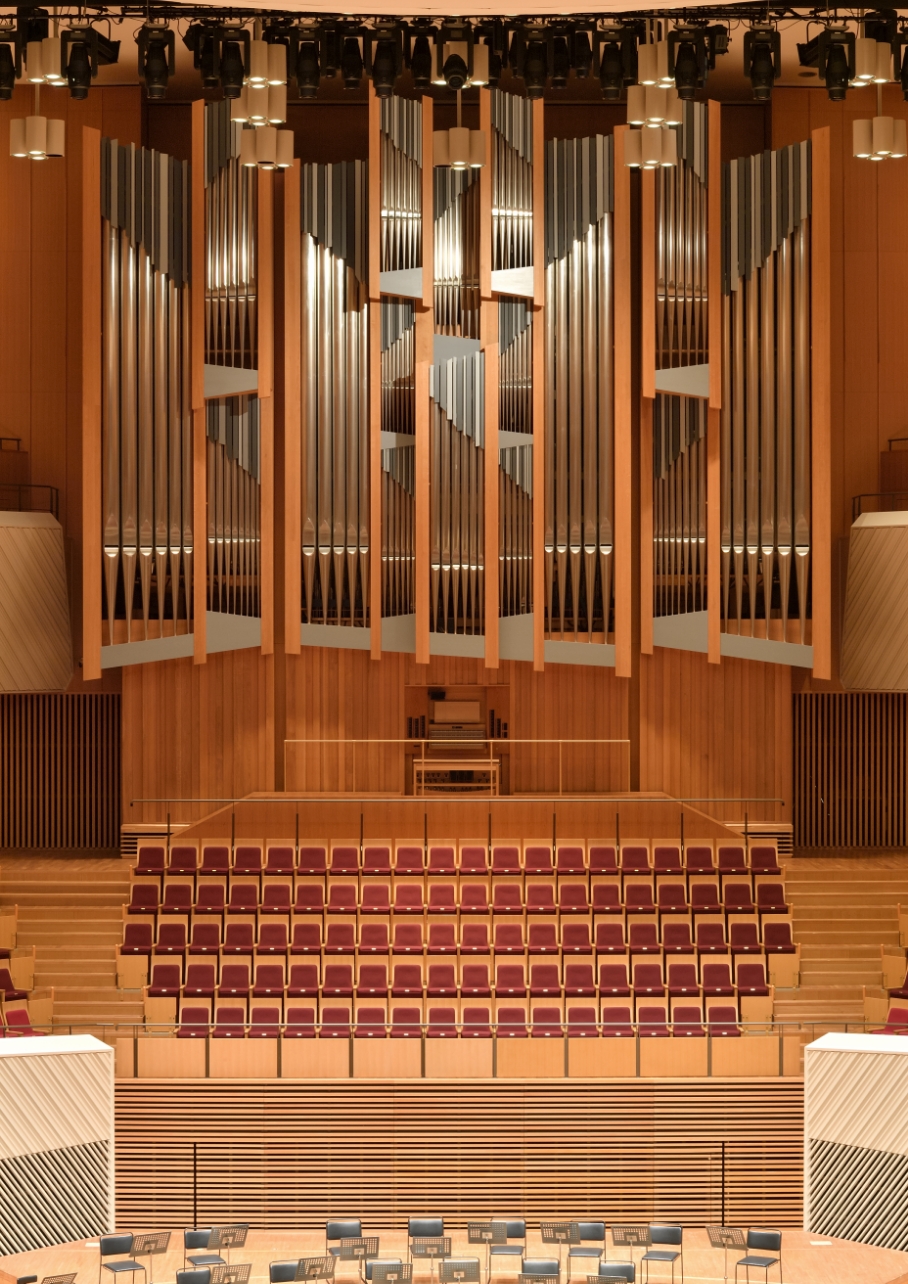 Positive Organ
Removable compact pipe organ consists of 4 stops (timber). Build by Marc Garnier Orgues in France.
| | |
| --- | --- |
| Number of pipes | 4 |
| Console | Manual(C-d3) |
| Organ builder | Marc Garnier Orgues |